Family, Guest & Volunteer Services Newsletter I Fall 2019
The hospital's newest employees are furry and have four legs.

These therapy dogs are certified service dogs and are official hospital employees. Their job is to help patients achieve specific goals. The dogs wear green service vests and ID badges to work.
| | |
| --- | --- |
| Puggle works largely in the inpatient Solid Tumor and Neuro-Oncology units with primary handler Brittany Reed. Ashley Carr, backup handler, will take Puggle to visit patients in Bone Marrow Transplantation and Cellular Therapy as needed. | Huckleberry works in Diagnostic Imaging with primary handler Shandra Taylor. Backup handler Katie Greer will take Huckleberry to visit patients in H Clinic as needed. The handlers have received special training to work with the dogs in the hospital. |
St. Jude celebrated Volunteer Manager's Week November 11-15. Those recognized were Kathryn Berry Carter, Tricia Spence, Debbie Garrett, Brittany Barnett, Hannah Crain,
Brin Schaechtel, Jennifer Loving, Savannah Burkholder and Jermarra Jones-Price. These staff members manage, coordinate and support volunteers and parent advisers at the hospital and at St. Jude housing facilities.

As part of the ongoing recognition of Volunteer Manager's Week, staff hosted an information table outside of Kay Kafe. Many employees, patients and families stopped to participate in a "Who's Who" presentation and a guessing game. Staff also handed out giveaways that included lip balm, treats and magnets.
The hospital celebrated Patient Family-Centered Care Awareness Month in October. The PFCC program planned activities throughout the month to raise awareness among families and staff of the opportunities and resources available. The events included recruitment booths, staff education tables, handouts and giveaways.
Read
more about PFCC Awareness Month (including Breakfast of Champions, Day of Remembrance and St. Jude Voice).
Volunteer T-shirt Campaign
Volunteers now have special T-shirts created based on volunteer feedback and suggestions. Volunteers can wear the T-shirts to their shifts (or whenever they would like) to celebrate and promote ways they support patients, families and staff. D

esigned with comfort and style

in mind, the T-shirt displays all the ways volunteers give back to St. Jude. In October and November, volunteers placed more than 150 T-shirt orders. Thank you to all who ordered. Enjoy!
Pictured: Family, Guest & Volunteer Services interns, Haley Pearson and Aundria McCadney.
Family, Guest and Volunteer Services offers a special thank you to all who volunteered during the St. Jude Halloween activities. Volunteers proved the extra support needed to make Halloween a grand experience for the patients and their siblings.
| | |
| --- | --- |
| The Ladies of St. Jude hosted a trick-or-treat booth stop. | Event volunteers gather in the volunteer office before trick-or-treating begins. |
St. Jude Auxiliary Hosts Bazaar and
Masquerade Jewelry Sale
Thank you to all who volunteered at the Auxiliary Bazaar and Masquerade Jewelry Sale.

Thanks to your generosity, the Auxiliary

Club rais

ed more than $44,000 at the Bazaar and $9,832 at the Masquerade Jewelry Sale.

All proceeds raised from the events are used to purchase tangible items that directly benefit St. Jude patients.
Childhood Cancer and Sickle Cell Awareness Month
"We Honor You" is the theme for Childhood Cancer and Sickle Cell Awareness Month each September.
At St. Jude,
the month was divided into four themed weeks: "Let's taco 'bout it," "You're a champion," "Leading the way with science"
and "What's your super power?"
Themed activities and events occurred each day to recognize the journeys of our patients and families.
Read
how Paula Head's (

ALSAC senior philanthropic adviser

) daughter, Carson Elizabeth, was treated for

osteosarcoma

at St. Jude.
Women's Club Check Presentation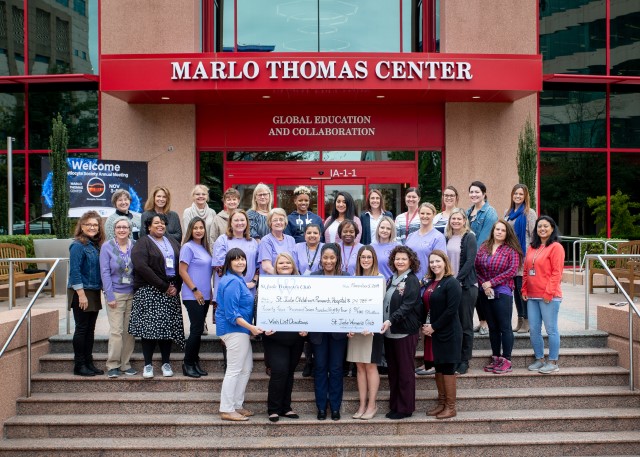 The St. Jude Women's Club (SJWC) presented a check for $24,784 to representatives from Child Life,
Family, Guest & Volunteer Services
, Nursing, Psychology, Clinical Nutrition, Housing and Social Work. These funds will be used to purchase glider chairs, game systems, breast pumps, bottle warmers, tonometers an isolation station and other supplies and services.
This donation is the result of volunteer hours by Women's Club members

 

who hosted various fundraising events, including the Collective Goods Book and Gift Fair; Fashionista Sale; and T-shirt sales for employee appreciation events such as Zoo Lights, JudeStock, Redbirds, Grizzlies games, and Childhood Cancer and Sickle Cell Awareness Month.
SJWC members appreciate the overwhelming support from St. Jude employees who remain committed to making purchases that help fund this annual gift.
Launch of "Our St. Jude" App
| | | | |
| --- | --- | --- | --- |
| | | The official app for St. Jude patients and families launched October 21. With the Our St. Jude app, families can access their schedule, travel and housing information, meet their care team members, get directions around campus, and discover articles written by St. Jude experts. St. Jude developed and designed the app to make visiting campus as easy as possible. | |
St. Jude Children's Research Hospital
262 Danny Thomas Place
Memphis, TN 38105
United States